Accenta greentech raises 108 million euros to accelerate the decarbonization of buildings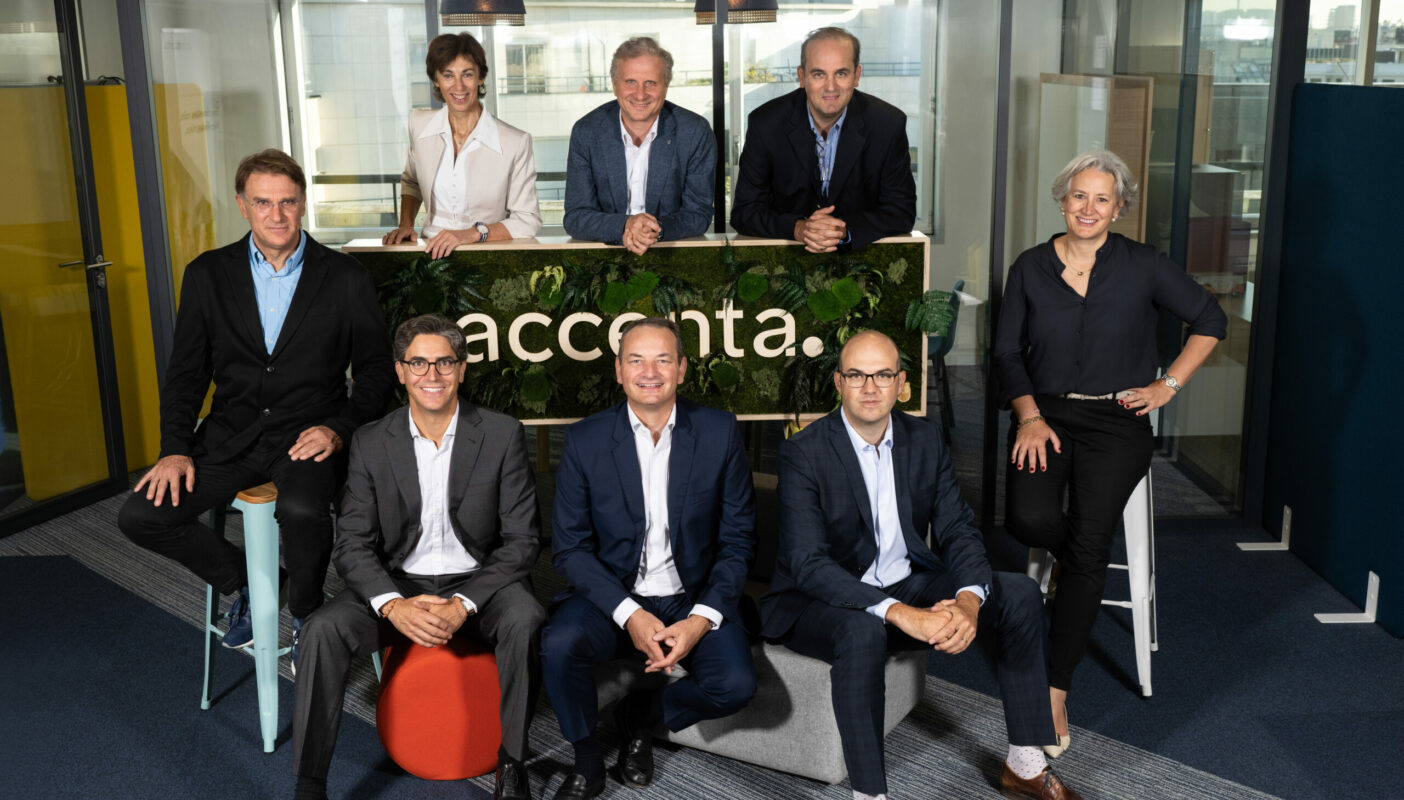 Accenta strengthens its capital base with the Siloé Infrastructures fund, managed by Crédit Mutuel Impact, and Eren Groupe, which takes operational control of the company.
Accenta is a high-tech company that has developed a disruptive low-carbon heating and cooling solution based on geostorage and controlled by artificial intelligence.
The funds raised will be used to make Accenta a leader in the thermal decarbonation of buildings.
Boulogne-Billancourt, September 14, 2023 – Accenta, a company specializing in the decarbonation of building heating and air-conditioning, today announced a €108 million fundraising. The deal is underwritten by Eren Groupe, which acquired a stake in Accenta in 2019 and takes operational control of the company at the same time, and by the Siloé Infrastructures fund, managed by Crédit Mutuel Impact.
Since its creation in 2016, Accenta's ambition has been to deploy low-carbon building on a large scale by focusing on decarbonizing thermal consumption, which alone accounts for 75% of the CO2 emissions generated by buildings during the operating period.
At a time when energy regulations are becoming increasingly demanding, traditional thermal renovation solutions are showing their limits in terms of complexity and cost. To meet these challenges, Accenta has developed a comprehensive offer for reducing energy consumption and decarbonized production. This offer includes :
an energy infrastructure based on geostorage, designed and built by Accenta,
optimization of low-carbon production using Artificial Intelligence,
energy management services.
These solutions, which can be deployed on all types of building in both renovation and new construction projects, offer their owners an integrated service and the guarantee of reducing their energy consumption and carbon footprint (or CO2 emissions) by up to 80% and 95% respectively.
Accenta already equips over 8 million square meters and is enjoying sustained growth, reflected in its sales, which have more than doubled annually since 2020. The company now employs over 150 people and continues to actively strengthen its teams.
Pierre Trémolières, co-founder and Chairman of Accenta comments: "We are delighted to welcome the Siloé Infrastructures fund, managed by Crédit Mutuel Impact, alongside our historical investors Eren Groupe and Serena, to implement the next stage of our growth strategy. The choice of this new partner was an obvious one. Firstly, because we share the same environmental and social values as Crédit Mutuel Alliance Fédérale, a company with a mission. Secondly, because the nature of our business and our investments requires us to take a long-term view, it was essential that our new investor shared this strategy.
I am also delighted to welcome Jacques Ripoll as Accenta's Chief Executive Officer. His wealth of experience, as well as the many potential synergies with the Eren Group, will be invaluable assets in accelerating the pursuit of our mission: to democratize access to low-carbon solutions by financing, on behalf of our customers, the investments required to decarbonize the heating systems in their building stock."
Benoit Herrmann, Investment Director at Crédit Mutuel Impact, comments on behalf of Siloé Infrastructures: "The decarbonation of the building industry is a major challenge, and one on which we need to move faster. With energy costs now higher and more volatile, property owners are all the more looking for solutions.
Against this backdrop, Accenta offers a unique and comprehensive range of services, including deep decarbonization of a site through geostorage – at a competitive cost. Accenta is able to commit to the performance of its solutions and to take on part of the investment risk, making the offer unrivalled.
The quality of the team and its achievements to date have convinced us of the company's potential."
Pâris Mouratoglou, Chairman of Eren Groupe says: "Since 2019, Eren has been working with Accenta to develop a comprehensive, integrated thermal decarbonation solution that is unique on the market. Today, it enables property owners to decarbonize their assets while satisfying their profitability requirements.
By acquiring a stake in Accenta and taking over the company's operational management, we are significantly strengthening the Eren Group's "building decarbonation" solutions – one of its main vectors for future growth – and giving the company the means to offer its customers a financed turnkey solution.
A new and exciting chapter in the life of Accenta is opening up before us!"
About Accenta
Accenta is a technology company specializing in decarbonizing the heating and cooling of tertiary, public, industrial and multi-family housing buildings. Founded in 2016 with the invention of geostorage, Accenta has since developed a comprehensive offering of innovative AI-optimized energy technologies that drastically reduce and decarbonize heating and cooling consumption at a competitive cost. Deployed via an integrated model with guaranteed energy savings and financing, Accenta's solutions simplify the mass decarbonation of buildings. Companies and public authorities such as AG2R, Eurovia, Fnac Darty, Icade, Prologis, Union Investment and the city of Roubaix have placed their trust in Accenta.
For further information, visit www.accenta.ai
About Eren Groupe
Eren Groupe is dedicated to preserving natural resources. Following on from EDF Energies Nouvelles, the development of Total Eren, sold to TotalEnergies in July 2023, has created one of the world's leading renewable energy companies, with over 3.5 GW of renewable energy assets in operation on 5 continents. Today, Eren Groupe is developing a centre of expertise dedicated to reducing the energy consumption and therefore the carbon footprint of buildings, through the optimization of their control systems and the use of thermal geostorage, as well as a centre dedicated to the production of low-carbon energy through the deployment of disruptive technologies (electricity, heat, syngas). Last but not least, we have a long-standing commitment to the world of sport and music.
For further information, please visit www.eren-groupe.com
About Siloé Infrastructures
Siloé Infrastructures is a specialized professional fund created in 2020 to make long-term equity investments in infrastructure contributing to the energy transition. Endowed with €350 million, Siloé Infrastructures has invested in France in renewable energies, electric mobility and hydrogen. It is managed by Crédit Mutuel Impact, a Crédit Mutuel Alliance Fédérale management company, which is also responsible for the Révolution Environnementale et Solidaire fund financed by the societal dividend.
About Crédit Mutuel Alliance Fédérale
Crédit Mutuel Alliance Fédérale is one of France's leading bancassurers, with 77,000 employees serving more than 30 million customers. It offers a full range of services to individuals, local professionals and businesses of all sizes, via its 4,500 points of sale. One of Europe's strongest banking groups, Crédit Mutuel's shareholders' equity stood at 60.5 billion euros and its CET1 ratio at 18.4% at June 31, 2023.
Further information on: creditmutuelalliancefederale.fr
About Serena Capital
Serena is a venture capital fund whose mission is to support the success of innovative and ambitious entrepreneurs working to make the world a better place.
Since its creation in 2008 by entrepreneurs for entrepreneurs, the fund has contributed to the emergence of success stories such as Aramis (acquired by Peugeot), The Fork (acquired by Tripadvisor), Cheerz (acquired by Cewe), and counts over 60 companies in its portfolio, including Dataiku, Descartes Underwriting, Electra, Jimmy Energy, Lifen and Malt.
Press contacts
For Accenta: Kenza Kanache (Euros Agency Group), accenta@eurosagency.eu, 06 35 47 82 08
For EREN Groupe: Sarah Levy-Quentin (Brunswick Group), EREN@brunswickgroup.com, 07 88 72 28 94
For Crédit Mutuel Alliance Fédérale: Aziz Ridouan, aziz.ridouan@creditmutuel.fr, 06 01 10 31 69 / Corporate Communications, com-alliancefederale@creditmutuel.fr, 03 88 14 84 00